I often get asked this question, 'What is a good audience size for running your Facebook or LInkedIn Ads?'. There is no one-size-fits-all answer to this question and every business is unique and thereby the audiences and needs can be different. That said, like in any marketing activity, whether online or offline, it is important to select the right audience size, while creating ads on Social Media.
With a 2.74 billion monthly active users, the sheer magnitude of the Facebook advertising platform makes it very powerful platform and potential to bring considerable results, especially in the B2C space. Likewise, the growth of LinkedIn's user base, newer features like LinkedIn stories and expanded advertising opportunities, makes it one of the most important channels for B2B marketing. But the success of ads any social media platform will largely depend on your ability to target your right audiences.
We often get to hear "The bigger the audience, the better". In general, businesses tend to like the idea of targeting a broad audience. Today I would like to bust this myth. A large audience base actually translates to inefficient use of budgets and impairs your ability to focus on your ideal customers.
Understanding of some key metrics
You may skip this section if you are an experienced advertiser and have a deep understanding of the key metrics.
Reach, Impressions and Frequency are basic metrics, but they play an important role in determining the audience size. Reach refers to the number of unique users exposed to an advertisement, whereas impressions usually refer to the number of times an advertisement is served on the platform. Frequency is the average number of times a user sees your ad. Frequency = Impressions / Reach.
And herein lies the answer to the question of how to find the right audience size. After all, most answers come from understanding the core and basics!
Should you care about Frequency?
Show an ad too few times and it won't register in users' memories. It will be easily forgotten. If you show the ad too often, users may get annoyed by its presence!
An optimal Frequency correlates to improvements in CTR and reduced costs. And too low or too high of Frequency can cause low CTR and increased costs.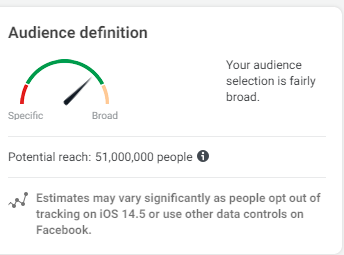 Potential Reach
Facebook and LinkedIn advertising platforms provides methods of focused targeting based on geography, demographics, interests and behaviour.
When you create your ad campaign, the platform gives you a potential reach based on your budget, targeting and placement criteria. This is an estimate of the size of the audience that is eligible to see your ad.
(There has been a recent update on the estimation methodology by Facebook, which is based on people who were shown an ad within the last 30 days.) There may be times where you would like to target broad audiences to achieve a specific goal. But a majority of the time, it would be wiser to reach a focused audience than a very broad audience.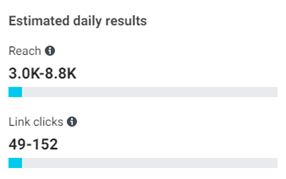 Estimated Reach to your rescue!
If you try to reach a big target audience, like in this example – 51,000,000 people to reach all over the United Kingdom, the platform's algorithm cannot obviously show the message to all these people – it is only a potential. The number of people your ad will actually reach to would be based on your budget. The platform will pick random people out of the entire audience and serve the ad.
This is where you need to narrow down your options and get the right reach and the right frequency. And you do not need to be Math wizard to do so! A bit of judgement, experience and the platform itself help. The platform provides you the estimated daily results. Do some calculations. Let us say, you want to run an ad for only 10 days. As can be seen in the estimated daily results you are likely to reach 10 x 49 = 490 people.
What does this mean? The Potential reach of 51,000,000 does not matter, the ad is likely to reach ONLY 490 people based on your budget and criteria.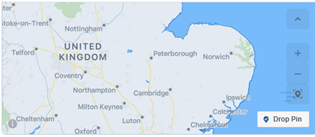 So simple question! Would you rather reach 490 people out of 10000 people, or reach 490 out of 51,000,000 people? Would you like to reach fewer people in each place across Milton Keynes, Cambridge, Oxford, Nottingham, Norwich, London, Reading, Swindon, and the whole of UK, or would you rather reach the 490 people just in Oxford, assuming that it is a place of business interest to you? If your marketing plan aims to accomplish brand saturation, the focussing on specific geographies as in this example would be the way to go.
In this example, we have not yet touched upon another important parameter – which is Frequency. The marketing concept of rule of seven says that a prospective buyer should come across a brand or marketing message at least seven times before they buy it. So, when you define the media plan and budgets, you would also want to consider an optimal ad frequency. More on choosing an optimal ad frequency in my forthcoming blog.
If you would like our inputs on how your digital marketing strategy, get in touch with us!